Phoenixville Eye Care Optical Shop
The Optical Shop at Phoenixville Eye Care Specialists is managed by an outside optical management company that specializes in providing superior goods and outstanding services solely for ophthalmology practices. By working with them, we can bring to you:
Lower Prices
Wider Frame Selection
Faster turnaround time
Longer hours of operation
More insurances and vision plans accepted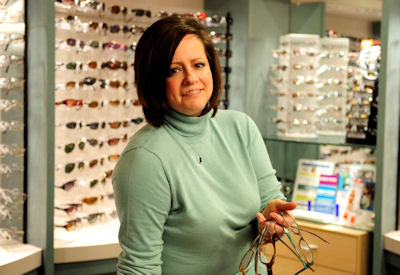 Our opticians, Jennifer and Dawn, are available in the office during our regular scheduled hours, including Monday and Wednesday evenings. Our two opticians have combined experience of over twenty-five years. Patients receive top quality individual attention from our A.B.O. certified opticians.
Jennifer and Dawn will help transform your prescription into the ideal glasses for optimum vision and advise you on the finest lenses and options available. Our Optical Shop provides the very best products for your eye care needs. We feature Crizal Anti-Reflective coatings (the best in the industry), Hi-Index plastic (super thin lenses), Polycarbonate lenses (impact resistant), Progressive Lenses and Photochromic lenses. See Advanced Lens Technology and Optical Glossary for more details.
We have an extensive inventory of eyeglasses for you to choose from in all budgets and styles, including titanium frames, rimless styles and everything from traditional to modern designs. In addition, if you have a favorite frame that you would like to keep, we can make them into a second set of glasses or sunglasses!
Eyeglass adjustments and most repairs can be performed on the spot. Eyeglass adjustments are always free of charge.
Only Phoenixville Eye Care Optical Shop gives you:
100% satisfaction guaranteed - Our doctors and opticians personally ensure your complete satisfaction-GUARANTEED.
Price Protection Guarantee - We will match competitor pricing, we will equal it or better it-GUARANTEED.
Best Selection – We feature today's top designers like Polo, Anne Klein, Prada, Vogue, Vera Wang, Elle, BCBC and D&G. We offer sunglasses by RayBan, Prada, DKNY, Ralph Lauren and D&G.
Quality Craftsmanship – Your eyewear is custom made in a state-of-the-art lab. There is a "Double-Check" quality system that assures your prescription is accurate every time.
Specialty Eyewear - children's eyewear, sport goggles, sunglasses, swim goggles, eyewear for every need.
Optical Shop
Optical Shop
Phoenixville Eye Care Specialists
720 S. Main Street
Phoenixville, PA
19460-3844
Phone: 610-933-3498
FAX: 610-933-5052
Get Directions