Phoenixville Eye Care Specialists
Cataracts
This section has been especially written and designed for persons who have vision problems from cataracts. Since cataracts occur frequently among older adults, many people need information about the latest developments in cataract care. A cataract is not the dreaded problem it once was. For most people with poor vision from cataracts, the prospects of regaining good vision and resuming normal daily activities are excellent.
Introduction
Cataracts are the number one cause of poor vision among adults. Over two-thirds of the population over age 60 have a vision problem from cataracts, and over a million people undergo a cataract removal operation annually in the U.S. Today a cataract can be surgically removed without discomfort. Using modern methods, poor vision from cataracts can be improved 98% of the time.
Among the modern developments in cataract care:
Phacoemulsification is a big improvement over the oldest style of cataract extraction.
Modern anesthesia techniques are used. For most people the operation has little pain or discomfort at all. The actual operation takes from 15-20 minutes.
Small incision surgery results in increased safety and shorter recovery time postoperatively.
Microsurgery improves patient safety.
Lens implants can restore vision permanently and eliminate the need for thick "coke bottle" glasses or contact lenses.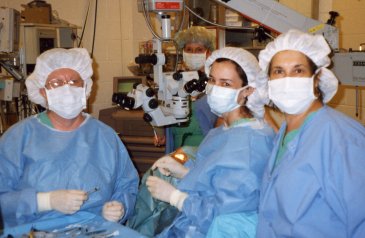 Dr. Jamine Shechter and her Operating Room staff.
Cataract Surgery
Cataract Surgery
Phoenixville Eye Care Specialists
720 S. Main Street
Phoenixville, PA
19460-3844
Phone: 610-933-3498
FAX: 610-933-5052
Get Directions